AMAZING PATTAYA SEA LIFE GUIDE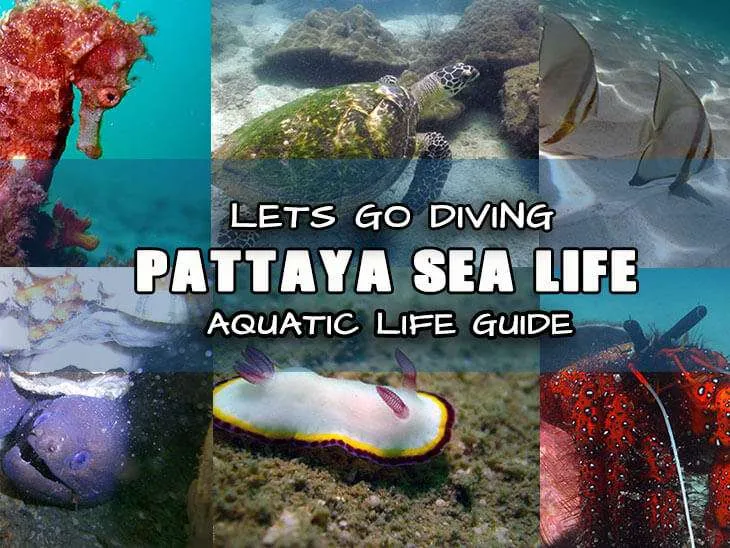 Discover Pattaya Sea Life
There is an amazing Pattaya Sealife to be discovered! Such a variety and fascinating array of marine creatures and sea life in Pattaya can be found from just 40mins from the beach at Pattaya. When Scuba diving in Thailand, you want to get a close-up, first hand experience some of the world most amazing underwater inhabitants. If you enjoy scuba diving then Pattaya Thailand is a great choice and a popular destination for experienced divers and beginners alike. Specialist divers come to observe Marine life in Thailand and Pattaya diving especially; has dive sites that are some of the 'go to' places to be to spot microscopic marine life. If you're lucky enough, larger pelagic animals such as the giant whale shark or perhaps even a Dolphin can also be encountered and a Pattaya diving trip day out.
How to Find The Best Pattaya Sea Life?
Diving with experienced and Professional diving instructors is the best way to increase the chances you can find and encounter such aquatic life since they dive the reefs daily and understand the behavior and locations of these wonderful animals. Don't miss out on the opportunity to see the marvels of marine life native to Thailand when Diving Pattaya.
Pattaya Sea Life to be found when Diving Thailand
---
Want to See Pattaya Sea Life? Enjoy a PADI Course in Pattaya.
Diving in Thailand is gaining in popularity with enthusiasts from all over the world. Many divers go out of their way to contact reputable online Thai dive companies to find out more about PADI courses such as the PADI Open water Diver course, Deeper Technical diving and also Pattaya snorkeling trips and dive boat trips. You can find some really good dive prices and naturally, really nice marine life. Just imagine how invigorating it would be to see such a diverse range of sea creatures, close up in their natural habitats.
Making new friends
You will meet some amazing people when you go diving. Pattaya is a vibrant city full of life and people as such. Each day you dive Pattaya you will share your dive trip off the beautiful coast of Thailand with new divers who may become friends for life. That's the dive life right?!
Together you can also expect to find multi-colored corals absolutely teeming with exotic marine life, so don't forget your underwater camera. If you enjoy diving make Thailand your first port of call where you're bound to meet new friends and acquaintances during your visit. It's a great way to find out what scuba diving is all about as well as picking up handy hints, tips, and advice from expert instructors and experienced divers alike.
Nothing is too much trouble for friendly tutors who will quickly teach you what you need to know concerning diving along with accompanying you in the water. No doubt you will be introduced to unusual marine life some of which you've probably never seen before like seahorses, sea moths, reef fish, stingrays, nudibranchs and if your lucky, different varieties of sharks. So go on, take the plunge and go diving in Thailand on your next diving holiday.