HIN YAI PINNACLE DIVE SITE GUIDE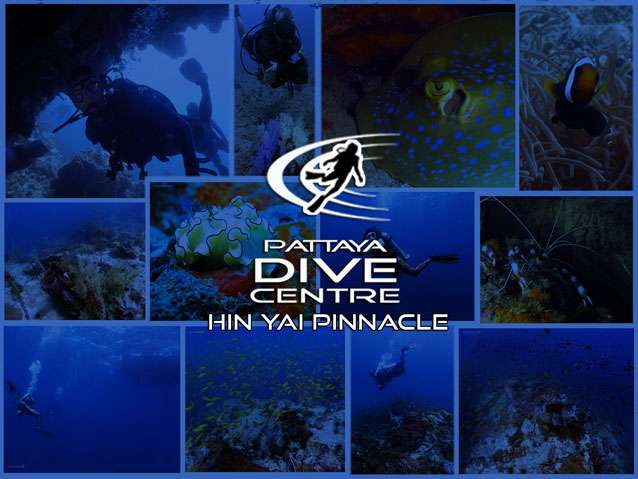 Recently Pattaya Dive Centre made a special trip out to Hin Yai Pinnacle, 45mins drive down the coast from Pattaya and approx just over an hour out into the Gulf of Thailand lays a pinnacle dive that only a handful of divers have made. "Hin Yai" is no big secret, but to many its a mystery!
Hin Yai is clearly listed on local navel charts to warn boats in the area of its location so that the bigger ships and the likes, know of its position.  To many people, however; exactly what lays beneath the waves is not so certain. Asking anyone that had even heard of Hin Yai was a task in its self, of those who had heard of it, the most anyone seems to know about Hin Yai, was that it was a Big Rock. Hin (meaning Rock) and Yai (meaning Big). It wasn't until we descended onto the pinnacles plateau at 14m deep did we realize its beautify and potential to be one of the best places for diving Pattaya.   Finding Hin Yais precise position can be a little tricky as some have found in the past who when out to dive her and failed, however, after making a few dives here now and using our exact GPS marker with our high tec bottom finder we had equipped on the "Sirens" boat we basically dropped straight onto her.. The best time to dive Hin Yai is on a high slack tide where you can be gifted to 20m visibility and 2 spectacular dives! When you hit this rock in the right conditions, the water was so clear you almost see the whole Pinnacle. Shark cruise of the Rock Shelves, Nudibranch lace the slopes and Moray eels pop out at every crevis. We also found a lot of giant banded boxer shrimp here which are very nice for macro photographers and not so common to the area.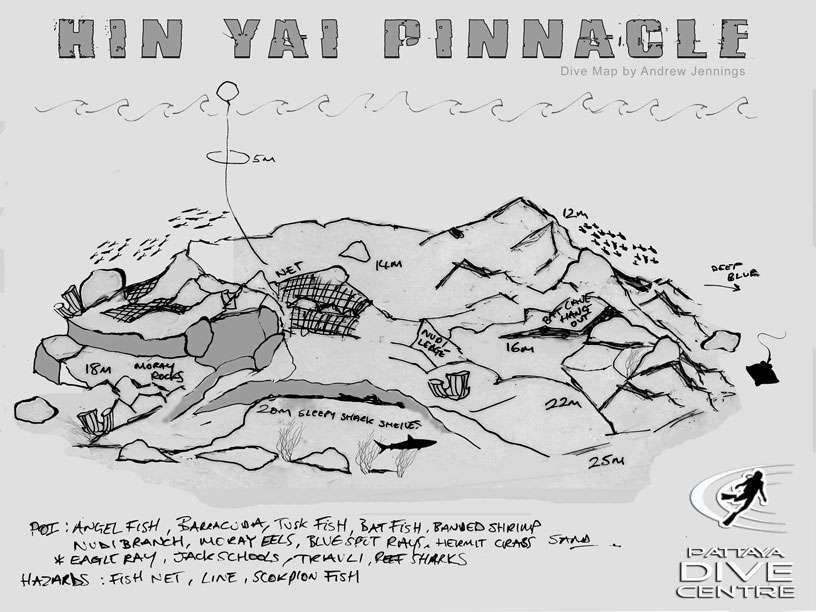 Check Out the Hin Yai Photo Gallery Below. These clicks were taken by Underwater Clicks photographer Andy using a Canon G12 camera, in Manual mode switching between a Sea & Sea Wide Angle Wet lens using manual White balance and the in Camera Macro mode with my Sea & Sean Video Lighting. You can read his Scuba Diving Hin Yai Review Here If you are Diving in Pattaya and Looking for a Pinnacle Dive trip please get in touch and we will be able to tell you if the season is right and I'll arrange a trip for you!