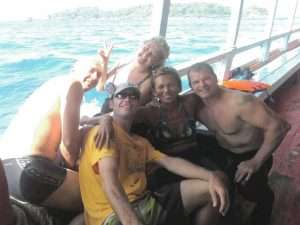 We at the Pattaya Dive Centre have just completed another Instructor Development Course, IDC. Again all the new instructor candidates past the Instructor Exam with flying colours. The team at Pattaya dive centre would like to personal congratulate Mark and Nick beginning a new career as brand new instructors and wish them well in their new positions where ever they choose to start living the dream job as PADI instructors. Also 2 other candidates that completed most of their training here at Pattaya Dive Centre also went on to past the IE in Brunei congratulations to Bryan and Dennis also passing the IE.
Live the Dream as a New Instructor.
If you have ever thought about changing your day job and travel to exotic destinations, teaching people to dive, we at the Pattaya Dive Centre have a program for you. Weather you have never dived before or just want to continue your diver training to a professional level you might want to check out our website dedicated to the Go Pro new instructor training.
Click here http://www.divinginternships.com
You will find on the site that you only need 6 months to become a new instructor from never dived before in our all extensive programs. We have an affordable package tailored made for you with all accommodations included in one price. If you would like to know more about becoming a PADI Instructor you can contact me direct on +66 38 422133 or from the contact us on the website.
LIVE THE DREAM BECOME A PADI PRO WITH DIVING INTERNSHIP THAILAND
Everyday all over the world, someone is waking up to a new life as a PADI pro! Sign up to become a PADI DIvemaster or an elite PADI Scuba Instructor and you could be too! Are YOU tired of your boring 9-5 work routine? A GoPro Diving Internship Thailand WILL change your life as you become a new instructor, the ocean becomes your office of aquatic delights! How? keep reading…
DIVING INTERNSHIP THAILAND – A DREAM JOB AS A NEW INSTRUCTOR IS WAITING!
Its time for you to live your dream and become a PADI Scuba Instructor, the worlds highest sought after diving professional. At GoPro Diving Internships Thailand we can give you the ultimate program allowing you to live your dream and have the lifestyle job you have always wanted in 6months. Our PADI GoPro Diving Internship Thailand packages includes everything that you will need, just pack your bags and enroll today. It's that easy. Courses to become a new instructor begin every month!