Petchburi Bremen Wreck Diving Trip With Pattaya Dive Centre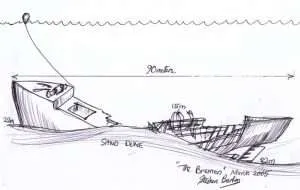 On April the 29th Pattaya Dive centre will be making a special wreck Dive Trip to steamship The Petchburi Bremen. Located approx 30km from Pattaya, we will head down to Samea San and set out aboard our dive boat MV Sirens Of The Deep.
We are destined for the channel of water that lays between Koh Khram Yai and Sattahip on the mainland in Chong Khram Channel for this is where the Petchburi Bremen found her resting place nearly 100 years ago on the 27th of December in 1920!
The PETCHABURI Bremen went down beneath the waves , after a fire and explosion ripped through the midships engine room. This event, buckled and damaged the 110-metres steel hulled resulting in the freighter taking on water and sinking to the sea bed at 23-24 meters deep.
Its cargo was reportedly salvaged, then the ship was scuttled. It is positioned up right on a sandy bottom, the bow and stern are largely intact, but the mid ships is sadly twisted and broken, not due to the original damaged that caused her to sink, but instead by the demolition practice inflicted on it by the Royal Thai Navy whom used her for bombing practice for many years. The "BREMEN" should NOT be penetrated now due to this damage making her largely unstable however, she is a spectacular artificial reef with amazing fish life.
Nearly 100 Years Later, The PETCHABURI Bremen, is left alone to rest, she is covered in corals, and sponges and is teeming with aquatic life. Angle fish, Jacks, Barracuda, Butterfly fish and Moray eels infest her hull and she also lays claim to some truly unique aquatic life that is rarely seen if ever on any other dive site in the area.. these two aquatic animals are the 'true' Stone Fish and giant Black Sting Rays (some time's referred to as The thorntail stingray or longtail stingray )
Due to fact that she lies in an channel with extremely strong currents, you really have to plan around the tide and choose your day carefully. The 29th of April 2015 is looking like one of those perfect days.
[metaslider id=705]
We will locate Petchburi Bremen by GPS and boat sounder and lay a line on her for a nice controlled descent. If the conditions remain calm and the visibility is great we will make a second dive on her as well! At 90m long there is plenty of Bremen to explore! If however, the tides are not kind to us (which is unlikely since we have planned this trip around a very nice 6hr tide window), a second dive may not be possible due to very strong currents. If this is the case near by lies Koh Ira offering two 2 very nice coral dives and also Koh Khram Yai that has really nice dive sites as well so we can also make an awesome drift dive in the extremely unlikely event we cannot dive the Bremen a second time.
This really is a special trip, ask any local diver about the Bremen and you will find that even instructor who have lived and worked her for years will only have a hand full of dives on The PETCHABURI Bremen, if you love wreck diving and are in town you can NOT miss this trip. If you from Bangkok or near by, it will be well worth the trip down to Pattaya.
General Stata On The Petchburi Bremen Wreck
Depth: 19-24m.
Visibility: 6-20m.
Conditions: Due to placement on the strait of two islands there can be strong currents.
History: Built at George See beck AG shipyard, Bremerhaven, Germany
Size: Length : 88.5m Breadth : 11.9m
Launched 1901: Under the name PETCHABURI for the company North German Lloyd in Bremen.
Thailand 1914: At the start of the 1st World War, the PETCHABURI was interned in Bangkok, where in 1917 she was confiscated by the Thais and renamed: KAEO SAMUD.
Final Voyage: Sailing from Bangkok to Swatow on 27th Dec 1920 with rice on board she ran ashore near Koh Khram Yai and sank.
If you would like to read more facts about the Petchburi Bremen Wreck please visit
www.wrecksite.eu
www.thaiwreckdiver.com
Summary : Petchburi Bremen Wreck Diving Trip With Pattaya Dive Centre
When : Start at Pattaya Dive Centre 8:15am on 29th April 2015
Cost: 3,300 THB (2 dive day includes transport, equipment and Lunch)
Optional Extras: EANx 33% 300THB per tank | Dive computer 200 THB
Requirements: Advanced openwater License or equivalent or recent log book showing deep dove experience and many dives.
Please note if bringing own equipment. (everything except tanks & weights) you may deduct 400THB
This Special Trip is Complete. Thankyou to all that attended! We will repeat this trip next slack water. If you are interested in going. Please contact us and let us know and we will stay in touch and let you know about the next trip. Thank you.