Discover Hin Plueng ``The Rayong Pinnacles``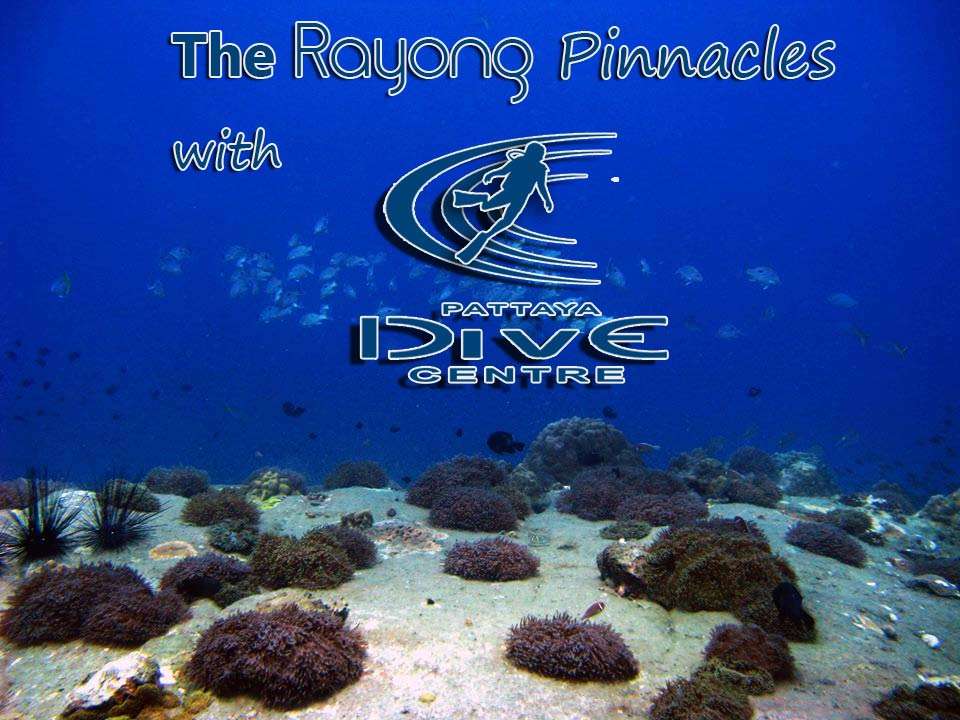 Rayong Pinnacles (Hin Plueng) Special Dive Trip :::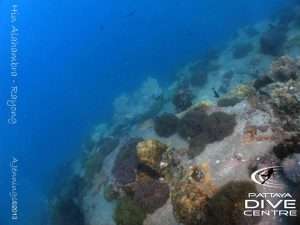 Thousands of tourist flock to Thailand in seek of prime dive destinations each year but little is known about the dive sites off the tourist map. Join Pattaya Dive Centre to explore the stunning Rayong Pinnacles which are not on the daily tourist dive site menu and adventure offshore with us from the beautiful Lae Mae Phim in Rayong to discover Hin Plueng aka Hin Alahambra " The Underwater Rayong Pinnacles"
Hin Plueng; is two underwater rock pinnacles hosting an amazing array of unspoiled corals and marine life which thrive and swarm around the natural rock structure.  In season the area has about 15-30 Meters visibility and water temp about 28c. The typography of these rocks is fairly simple to navigate and as it is possible to circumnavigate the Rayong Pinnacles as you explore and observe the soft and hard corals and swim along ledges and intriguing crevices that are just begging to be explored!!
---
---
The larger of the Rayong Pinnacles has a 30m maximum depth, you will find that the smaller of the Rayong Pinnacles is approximately 22m maximum depth yet both start just a few meters (approx 3-5m) beneath the surface making them perfect for certified open water divers as well as advanced open water divers who wish to drop deeper. Whatever certification level you are, remember the best dive plan is to circumnavigate and swim all the way around the rocks so you don't miss anything so remember to plan your air and depth so you make it! Even ascending to about 5 metres and swimming around in the shallows to increase your time is a fantastic way to spend the later parts of the dive since you will be surrounded by 100's of yellow fusilier fish that shimmer and glisten against the vibrant corals illuminated by the sunlight penetrating the shallow waters of the Rayong Pinnacles.
 When? Where? What? Why?

When: Saturday March 7th 2015th
Where: Rayong Pinnacles. One of the best dive sites in the area.
What: Two huge underwater rocks,  Big Wall Reef, many Anemone Gardens Lots of Nudibranchs, barracudas, Fusilies, Hard Corals Soft Corals and even the chance of spotting Whale sharks here!
Why: Rarely dived sites especially by tourists. Great for Photography Great excuse to get wet!

---

Price :::

3,900 THB per person using rental equipment
3,500 THB per person with their own equipment

Included In The Price :::

Transportation Pattaya- Rayong Pinnacles
(if driving by yourself, Google maps coordinates are 12.628948,101.497694)
2 Dives (air tanks only – nitrox is not available)
Food and drink on board
PDC Dive Support team to assist divers

---

Schedule :::

6.30am            Meet at Pattaya Dive Centre Searfari, Soi13 for equipment fittings
7.00am            Depart to Laem Mae Phim
9.00am            Arrive at the Mae Phim Pier and board the King Olav
10.30am          First dive on the larger of the Rayong Pinnacles
12.00am          Lunch on board
1.30pm            Dive on the smaller of the Rayong Pinnacles
4.30pm            Arrive back at pier and depart to Pattaya Dive Centre
6.30pm            Arrive back at Pattaya Dive Centre

---

To make your booking and payment to go diving at the Rayong Pinnacles:

Please contact us or call  and ask to book on 038 422 133. Payments can be made in any Pattaya Dive Centre Store or by PayPal or Bank transfer upon request via email.