SCUBA DIVER LIFE STORIES - THE 100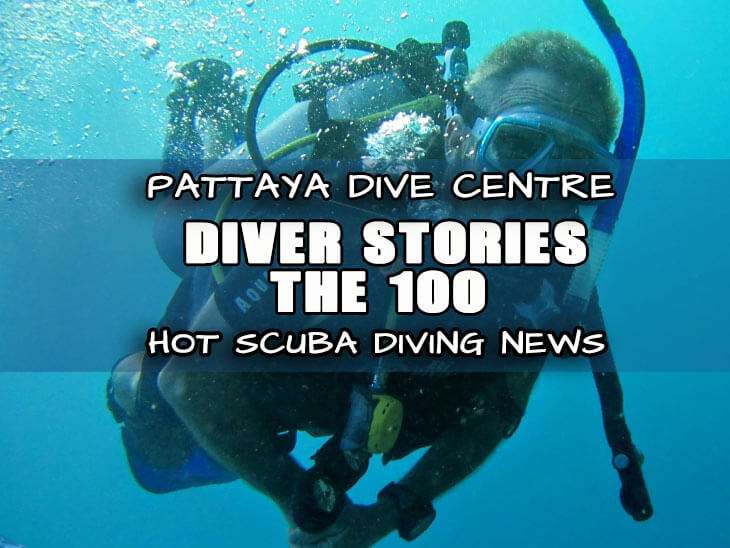 SCUBA DIVER LIFE STORIES FROM PATTAYA THAILAND.
All scuba divers have a bond to the sea and an affiliation with each other.  Many of us are simply hooked on scuba after those first breaths underwater and enjoy a brother/sisterhood relationship wherever we travel for our diving. We love to meet each other and share stories of our adventures on the wrecks and reefs around the world..  Recently, here at Pattaya Dive Centre, we had the pleasure of diving with Andy Douglas. Whilst on this trip diving in Pattaya, Andy chalked out a mile-stone marker on his scuba diver log book, not only an epic achievement to hear about but even better to be a part of… The 100 Dive point! Here is an interview, a glimpse into the life of a fellow diver on his road to his 100th dive.
Q: Where and When did you first try/start scuba diving?
In 1998, I did an "Introductory" dive (Equivalent of a try dive Discover Scuba Diving program) off Hastings Reef, Cairns, Queensland, Au.
Q: What made you want to become a scuba diver?
Strangely enough, a fear of the sea installed ironically by my father (a lifesaver) who thought it was great to throw me in the surf as a kid !!!
Q: How long have you been scuba diving?
After my introductory dive, I left it until 2007 before I took it up seriously.
Q: What certification level are you now?
MSD (Master Scuba Diver)
Q: What is your next dive certification in mind?
Thinking about DM (Dive Master) this year.
Q: What's is your favorite aquatic animal?
Has to be the turtle without a doubt.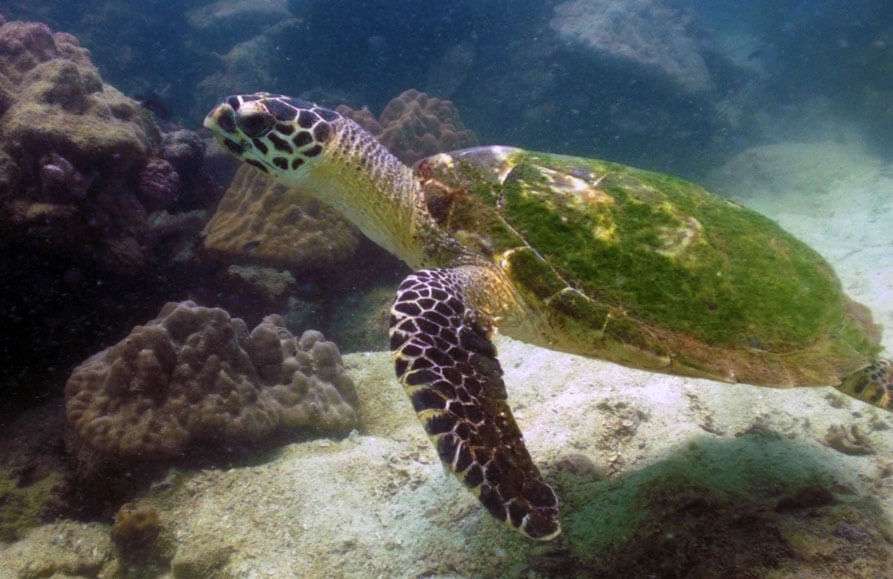 Q: Do you have a most memorable dive?
I have to mention two.
The first, Jan. 2010, diving The Hardeep Wreck off Samaesan with the lovely Megan Smith from Aquanauts, when we watched a very large turtle feeding on the wreck for at least five minutes from only about two metres away, totally undisturbed by our presence. Magical !!!
And the second, Nov. 2013, for obviously different reasons, was the challenge of the unresponsive diver scenarios for my Open Water Rescue Dive No.1 in Arguineguin Bay, Gran Canaria with Dive Academy. The sense achievement to become a Rescue was immense. I was 57 at the time.
Q: If you could bestow 3 tips to less experienced divers, what would they be?
Make sure you listen to and understand the dive briefing. If you're not sure about anything, ask.
Your preparation and entry are so important. Try to do this in an organized and comfortable manner. Don't be rushed. You want to feel relaxed and confident before your descent.
Some dive centres are incredibly lax on pre dive buddy checks. Don't just assume everything is OK …. make sure they are carried out.
REMEMBER, YOU DON'T HAVE TO JUSTIFY YOUR CONCERNS.
IT IS YOUR RIGHT TO FEEL SAFE.
Q:  After so many dives, what would say is one of the most important qualities in a dive buddy?
You are there to watch out for each other and you can only do that by staying close.
Q:  Some divers follow a ye old tradition of making the 100th dive naked..
Did you do anything special to mark the 100th dive?
Kept it pretty low key actually …. in fact the dive leader begged me not to do it naked, despite me thinking I was in great shape for 61  hahaha.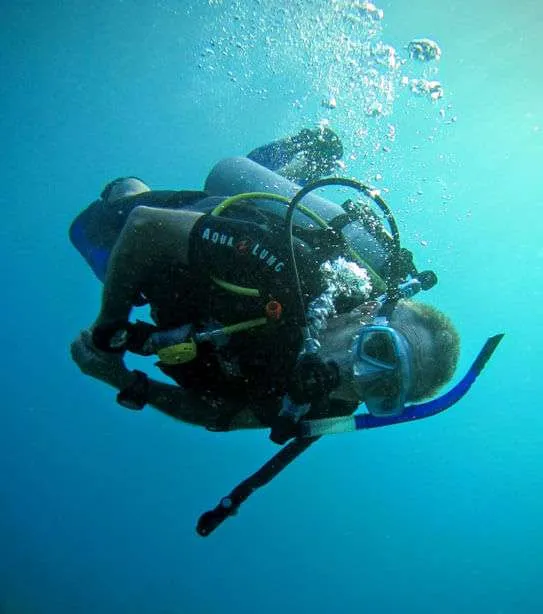 Congratulations once again Andy! Keep us posted on your scuba diving travels! If you want to become a Master Scuba Diver like Andy you can! Join the Scuba Tribe, get certified Open Water Diver, Become a safer diver with Advanced or Rescue or come for a Dive trip and meet the team and we'll Help you to add some memories to your log-book along the way!