HAPPY NEW YEAR FROM PATTAYA THAILAND
WE HOPE EVERYBODY HAD A GREAT AND HAPPY NEW YEAR, WE CERTAINLY DID HERE AT PATTAYA DIVE CENTRE. WE ARE READY FOR SCUBA DIVING PATTAYA THAILAND 2017 ARE YOU?! WE HAVE MANY THINGS IN STORE FOR OUR FUN DIVERS, DIVE STUDENTS, DIVE INTERNS AND SNORKELERS!
WHATS HAPPENING AT PATTAYA DIVE CENTRE
IN 2017
PREPARATION, PLANNING AND ADVENTURE!
OUR 2017 DIVING PATTAYA PREPARATIONS.
As the premier PADI 5 star IDC dive location on Pattaya Beach, each year its out with the old and in with the new! This dive season will be no different, all 3 custom dive boats are taken out of the water. Our Boats undergo a full overhaul mechanically to ensure top notch performance, whilst they are stripped and inspected structurally.  Repairs are made no matter how small, before they are totally repainted and refitted with brand new safety equipment. Safety Is one of of major priorities. We use the very latest life jackets and floatation devices.
BRAND NEW MARES DIVE EQUIPMENT AND DIVE COMPUTERS
Our rental dive equipment is always well maintained.  Our owner and registered A.S.S.E.T dive equipment technician Dave,  services and inspects all compressors and scuba tanks for the years visual inspections and maintenance. Dave also personally strips down, tests and fully services our Mares, Aqualung and scubapro regulator sets. Well, he does this more or less every other month anyways but the new year routine is like clock work also.
This year we have introduced 10 brand new sets of Mares dive equipment. This include 10 new Mares BDC's, 10 new Mares Regulators and 10 new Mares Dive computer to our rental collections.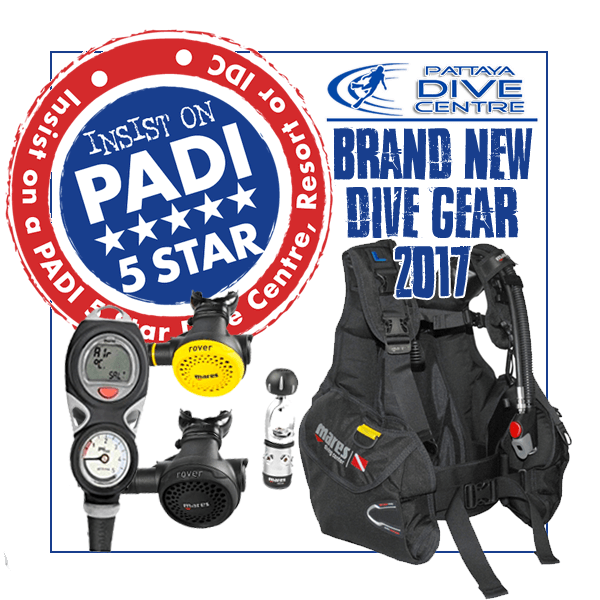 "IN 2016, OUR DIVE CUSTOMERS GAVE US FANTASTIC FEEDBACK ON HOW OUR DIVE BOATS AND DIVE EQUIPMENT WAS SECOND TO NONE, TO ANYWHERE THEY HAD TAKEN A DIVE TRIPS IN THAILAND! THIS IS A HONOR AND A TREND WE INTEND TO CONTINUE INTO 2017 AND BEYOND!"
MOVING WITH THE DIVE COMMUNITY FLOW
We take our dive community seriously. It's all too easy running a Pattaya diving business to stagnate and sit back, because thats the easy thing to do right? Let people walk in to ask  about Learning to dive and the PADI Open Water Courses and Discover Scuba Diving Try Dive days without actually doing anything… This year we will reach out more and more to make it easier than ever to find amazing special dive trips, best value dive packages and the latest dives course available in Thailand!
We LOVE teaching and introducing people to dive, but we also LOVE DIVING so we realise that the certified diver has needs also and snorkelers has different expectations compared to our professional diving internships. Although all these elements generally work together,  we decided to create a focus towards taking care of each of them exclusively. We have a dedicated team and sections to manage and look after each one and hopefully, create a better a overall experience for everyone.
Pattayadivecentre.com, our home website is centralised around all our activities.
SnorkelPattaya.com is dedicated to Snorkelling in Pattaya and Day Trip Adventures
DivingInternships.com is dedicated exclusivet to our GO Pro Section and professional Dive Master and instructor training.
DivePattaya.com which is dedicated to our Certified diver activities and advanced diving trips to Pattaya and Samae San in order to ensure our certified diver community gets lots of variation, excitement and adventure from there dive trips!
BRAND NEW DIVE PACKAGES AND SPECIAL OFFERS FOR 2017

DIVEPATTAYA.com, which head ups our exclusive certified diver department, focuses on Advanced level diver training as well and special and exclusive dive location trips AND special packages for scuba diving Pattaya Thailand is Offering More Dive Packages and offers Than Anyone Else in 2017.
To keep upto date with our special offers and dive trips visit Dive Pattaya and check out our Pattaya Dive Course Special Offer Packages and our Special Diving In Pattaya Packages
SUCCESSFUL 100% PASS RATE 2016 PADI IDC INSTRUCTOR PROGRAMS!
To Celebrate Pattaya's Best & ONLY Platinum Course Director with 100% Pass Rate in 2016 (Yes you guessed it's our very own CD Arnold.) Diving Internships is now offering the Best Platinum Quality IDC Package which is the Best Value & Lowest Possible Price!
Check Out This Special IDC Dive Instructor Training Deal  Right Here Right Now!
LEADING THE WAY! SPECIAL ONLINE BOOKING MADE EASY!
One of the most common issues divers face when booking a dive trip in Thailand, is confirming your booking online. 90% of ALL scuba diving websites in Thailand say "Book Here Now'.  Only to direct you to a contact form which begins the long and arbitrary process of 50 emails back and forth. Here at Pattaya Dive Centre, we fully embrace and keep upto date in our diving practices and knowledge, Its logical to us that our business shouldnt be any different.
You will find it is easy to find everything you need to know online, there and then, when you want it.  We've tried to make it easy to book and confirm with with the dive shop. Booking Your Dive Holiday with us means you can sit back, relax and focus on arranging other parts of your scuba diving vacation.
BE FIRST AND DONT MISS OUT!
During 2017, Team PDC will be organising some very special dive activities and events.  These  will coincide with dedicated first refusal on special offers for our dedicated scuba divers. If you want to be first to find out about special Pattaya Dive Trips, Samae San Adventure dives, Liveaboard trips and special training events, subscribe to our newsletter and dont miss out!
WE WOULD LIKE TO GIVE A BIG THANKYOU TO EVERYONE THAT MADE OUR 2016 A SPECIAL YEAR. HAPPY NEW YEAR EVERYONE, LET'S MAKE 2017 EVEN BETTER AND A YEAR TO BE REMEMBERED! ALL THE BEST & DIVE SAFE!
Team PDC