Pattaya Dive Centre Facilities : About Our Dive Center & Retail Shop
Our shop stocks a full range of equipment for snorkeling and scuba diving alike. We stock, Cressi, Mares, Scuba Pro, Aqualung, Ocean Dynamics, Seac, Deep blue and have access to even more. If we don't have it, we can order it in for you!  Aside from scuba regulators, BDC. Fins, masks and snorkels we also stock a wide range of additional equipment for diving including but not limited to; flash lights, reels, compass, gloves, rash guard tops, clips lanyards, slates and underwater cameras. You will also find a range of beach and swimming items such as waterproof camera bags, iphone and ipad cases, swimming goggles and beach shoes.
Pattaya Dive Centre Facilities : About Pattaya Dive centre facilities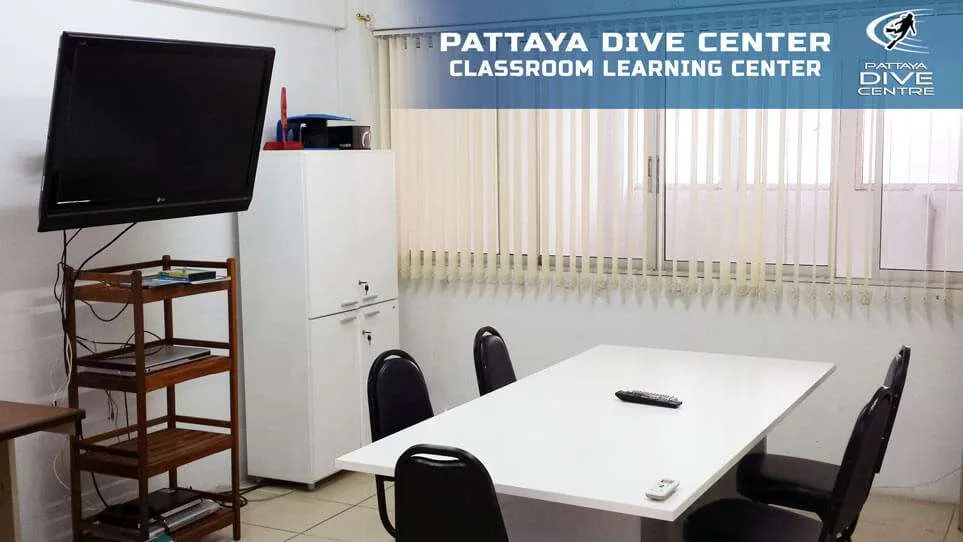 You will always find a friendly atmosphere at the dive centre, outside our shop we have a seating area and tables which we use for study, hanging out or maybe having a few deco beers after a long day!
Each morning our instructors make equipment preparation in our kit room and workshop which you maybe visit to gear up or learn about the gas blending facilities we have in house during a nitrox course for example. If you are taking a scuba diving course, we may utilize such facilities as our class rooms, workshop, swimming pool and of course boats as required. We maintain a large stock of study materials in many languages and with two air con study areas you should be relaxed whilst using one of our  two computers to study on along with two widescreen TVs used for playing training videos. We also offer free WI-FI for those of you using tablets, smartphones and other devices at the dive centre. Our rental scuba diving equipment is all keep clean and in good condition and is replaced annually as required. We have the newest mixed gas blending facilities in Pattaya and can offer divers both EANx ( Enriched Air Nitrox) and Trimix for technical diving.
About our dive boats
Pattaya Dive Centre owns three custom built dive vessels. MV Nautigirl and MV Sirens Of The Deep and Lady Go Diver II. These boats are both comfortable and clean boats with good facilities on boat and have helpful and expert staff running them. Here are some point for point reasons to choose to dive our boats.
• Custom designed and built to meet international safety standards.
• Travels to with good cruise speed cutting a lot of travel time from usual dive spots.
• Has a surface support rib boat to serve snorkelling and diving needs
• Nautigirl serves fresh food cooked on board daily with free drinks and snacks
• Onboard showers, bathroom and classroom facilities
• Modern flushing toilets and holding tanks for waste. Hygienic, clean and environmentally friendly
• 1st class safety and first aid equipment. Twin emergency o2, life vests and first aid supplies
• Ability to work close inshore via our rib boat, shallow water and from the beach we can embark and disembark passengers at the beach right opposite our beach road dive centre, saving those long, tedious trips to and from the Bali Hai pier we save 20mins every morning by leaving directly from Pattaya Beach!