BECOME A RESCUE DIVER GUIDE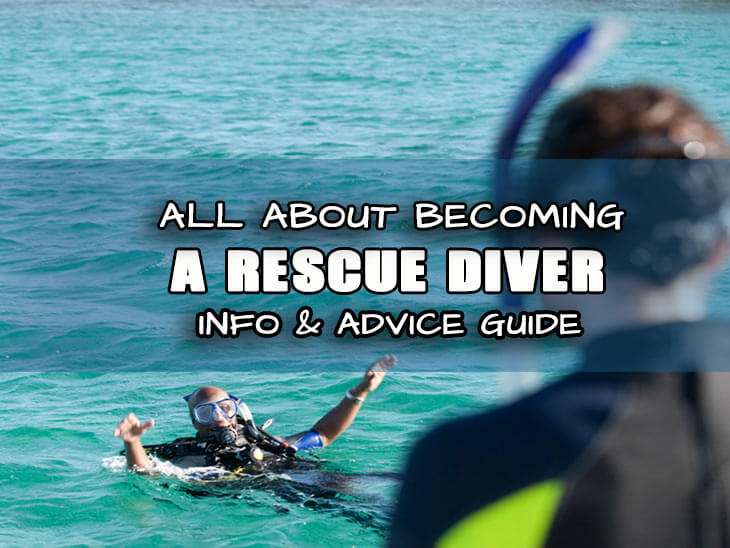 WHAT IS A PADI RESCUE DIVER?
The Rescue Diver course is the third level qualification and follows the Advanced Open Water Diver qualification (AOW). In the past, the Rescue diver course was treated as a separate "specialty rating" rather than a mainstream scuba diving certification in itself but most advanced training levels require a scuba diver to have previously completed the Rescue Diver certification so it effectively becomes a tier in the training.
WHO SHOULD TAKE THE RESCUE DIVER COURSE?
The Rescue Diver Course is often described by anyone already certified Rescue Diver, as the most challenging, yet most rewarding course they've ever taken.  This is because you learn to prevent and manage problems in the water, and become more confident in your skills as a scuba diver. Knowing you can prevent many of the small problems that lead to larger issues is very reassuring and brings confidence to help and advise others if needed. By practicing problem-solving skills you become a better dive buddy AND  the course is seriously fun.
PADI (Junior) Adventure Divers who are at least 12 years old and have completed the Underwater Navigation Adventure Dive may enroll in a Rescue Diver course, although most people simple complete the full Advanced open water prior to joining the course. Although Adventure divers may enter the program they must complete the advanced course anyways later on if they wish to proceed to Master Diver or Divemaster level anyway.  Besides this requirement, you must also have Emergency First Response Primary and Secondary Care (CPR and First Aid) training within the past 24 months. You can complete this training during the Rescue Diver course. In fact, we have a special offer combo course including both Rescue & EFR certifications PLUS your Emergency Oxygen Provider Cert all in one! See Our Special Offers ) You may also wish to add on the PADI Emergency Oxygen Provider specialty diver course at the same time as this is covered within the rescue course as an orientation but not the full certification. Oxygen providing requires certification by law in some countries so is very useful to have.
WHAT WILL YOU LEARN AS A RESCUE DIVER?
The PADI Rescue Diver course prepares you to most importantly prevent problems as well as deal with dive emergencies which may occur. These issues range from minor and major and you will need to master a variety of techniques to do so. Through knowledge development sessions and rescue training exercises, you learn what to look for and how to respond. During rescue scenarios, you put into practice your knowledge and skills and role play both the victim and the rescuer. this is great fun but also very enlightening to the mindset side of problem prevention and solving.
 RESCUE DIVER TOPICS INCLUDE:
Review of Self Rescue
Identification and managing of stress in other divers
Emergency Situation control and types of equipment used
Safely Rescuing Panicked divers
Safely Rescuing Unresponsive Divers
Approach to Dealing with Post Rescue Stress and Incident reports.
HOW CAN YOU START LEARNING ABOUT RESCUE DIVING?
The fastest and easiest way to absorb and learn at your own pace is to register for Rescue Diver Online – PADI's eLearning option. You can really take in all five knowledge development sections better using this web-based learning at your own pace.  Once completed your PADI Instructor can really shape you into a great rescue diver as you will already have a solid base of rescue diver knowledge when you arrive for the course. We can focus on the elements which you need further explanation and give you more around the subject training and knowledge within the time of the course's training. You also have access to an online version of the Rescue Diver Manual for reference during and after the course.
If you prefer, you can choose to study with the Rescue Diver Manual and watch the Rescue Diver Video (a book and DVD package). We can offer this option also, once you enroll in the course, we will give you your materials and get you learning. The Rescue Diver course can be quite a demanding course, for this reason, we would recommend you plan to collect your training materials at least one day before and read through your material before beginning.  This will make it easier and more productive during your scheduled knowledge review sessions before we progress along with your rescue diver exercises and scenarios.
WHAT SCUBA GEAR WILL YOU USE?
You'll use your basic scuba equipment and will need a pocket mask to practice in-water resuscitation. During exercises, you'll work with an oxygen unit, floats, marker buoys and perhaps CPR mannequins. We will explain the equipment that you need and may suggest additional gear, such as your own first aid kit, which will be useful throughout your diving career.
NEXT STEP
Become confident and earn your next certification:
Sign up for Rescue Diver Online and start learning right away.
Check Out our PADI Rescue and EFR/o2 Combo Special Offer
Check out the PADI Master Scuba Diver rating.